For immediate release – June 3, 2009
School embraces Beck's mission to curb progressivism with their own: Building Statesmen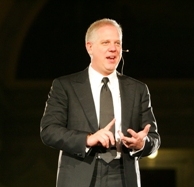 Salt Lake City, Utah – Glenn Beck called for a return to studying the classics rather than progressive indoctrination in his keynote address at George Wythe University's (GWU) annual gala Saturday night at the Utah State Capitol. Beck urged supporting the private classical liberal arts university's singular mission of building statesmen and made a personal donation of $25,000. The event coincided with the school's national debut of its live online virtual classrooms, which will allow students to attend classes in real-time from anywhere in the world.
In lieu of dining with state dignitaries, Beck sat with students, engaging them with inquiries into principles of good government and the merits of various ways to reclaim the nation's liberty.
"Three weeks ago in Washington, I had dinner with the head of the GOP [Michael Steele], Newt Gingrich—a fascinating man who knows history inside and out—and a couple of other people,"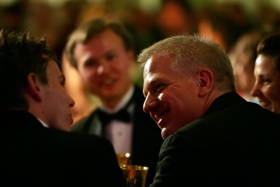 Beck said during his keynote address.  "I had a better conversation tonight with the students of George Wythe—by far more intriguing."
Beck's donation was also inspired by 14-year-old Rachelle Harkey, who raised the $500 to pay for her seat plus a $1000 gift to GWU by finding donors who would pledge a penny for each page that she read from a list of classics. Her table consisted entirely of youth who did similar things for their seats.
Unable to attend, Mitt Romney introduced Beck via video as "a friend and a statesman in his own right," adding "I salute those of you in this room tonight, who are all united in moving forward the cause of liberty, in building men and women of virtue and wisdom, diplomacy and courage, which is part of the mission statement of the university itself."
Beck spoke for nearly an hour, focusing extensively on America's "progressive" march toward ignorance and dependence, but shared his renewed optimism in the recent awakening to rediscover the principles of liberty.  He noted that a key to this awakening is the kind of education that happens at GWU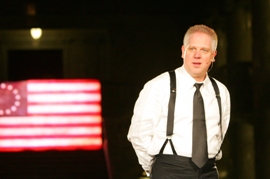 —studying original sources so that students "learn how to find the answers," said Beck, and to think for themselves rather than rely solely upon textbooks and professors.
"Quite honestly, the first thing that attracted me was that to graduate you have to know all of the principles behind The Five Thousand Year Leap," Beck said in a separate interview. "It is the book to read for this period in our country's history."
The first of three dozen books read during the freshman year, W. Cleon Skousen's The Five Thousand Year Leap identifies 28 principles the American Founders relied upon to establish a free society. "By Winter Semester, freshmen are citing all 28 principles during debates, simulations, and oral exams," said Andrew Groft, University President. "We want them understanding the foundational principles of liberty while thinking on their feet."
"I came to George Wythe because of its mission to build statesmen," said Austin Russell, a student who sat at Beck's table.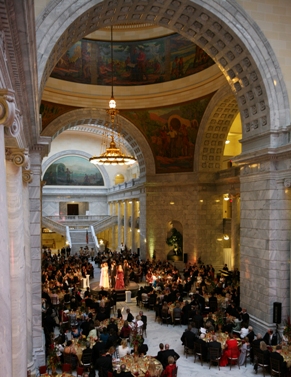 "Plato wrote that education should be designed to make men good, and that really is what George Wythe does. I've definitely seen a change in myself and my peers. I view the world through a much clearer lens."
Russell begins law school at George Washington University this fall. Averaging 9 to 12 hours of daily study over his four years at George Wythe, he feels prepared for this next step. Appreciative of his undergraduate experience, he reflected, "the curriculum is so well balanced that any student who is truly passionate about gaining an excellent education will find satisfaction from the richness it provides."
The event concluded with Beck receiving the school's Statesmanship Award from the George Wythe Foundation Board of Trustees.
"Hope is alive and I am thrilled with the kind of students that are coming out of George Wythe," said Beck. "If there was ever a time for more statesmen and fewer politicians, it's now."
Fall registration to attend the live virtual classrooms is now open nationwide.
###
Contact:
Gary Arnell
Vice President of Administration
George Wythe University
435.586.6570
About George Wythe University: George Wythe University is a non-profit classical liberal arts university created for the sole purpose of building statesmen for the 21st century. In addition to its main campus and extension programs in many states, it now offers live online virtual classrooms serving students anywhere in the world. GWU was founded on principles and methods used by George Wythe, first law professor in the American colonies, to mentor Thomas Jefferson and many other statesmen of his day.  The university uses a unique principle-based educational model centered on studying classical texts under the guidance of mentors.  Other foundational elements include scenario-based simulations, field experience, a rigorous study load, and a personal mission-oriented emphasis toward leadership education. Degrees offered range from a Bachelors program in Statesmanship to a Doctoral program in Constitutional Law.  GWU is rapidly gaining notice as an innovative, refreshing and timely alternative to conventional models of higher education. With ambitious expansion plans, the school's current main campus is located in Cedar City, Utah.  For information visit www.gw.edu
"To build men and women of virtue, wisdom, diplomacy and courage, who inspire greatness in others and move the cause of liberty." – GWU Mission Statement