Back in May I had the privilege of speaking at Commencement for George Wythe University in the Utah State Capitol. It was a delightful, even emotional experience for me, one that revived fond memories of my own college years as a student serving at the legislature in those same hallowed halls only a brief eon ago. I was especially moved to see the determined optimism in the graduates' faces against the backdrop of their families—their commitment to the cause of liberty and virtue, prepared now to embark with a sense of mission in service to their fellow man.
Our purpose at George Wythe University is to advance the cause of liberty. The requirements for this are virtue, wisdom, diplomacy and courage, without which liberty would fail—as has occurred many times throughout history. But how can small numbers of such leaders impact a society enough to truly make a real difference?
It is no secret that government, media and education shape our society disproportionately to any other sectors today. The positions of influence within these three have become the main battlefronts for society's hearts and minds, preferences and tastes, even its understanding of right and wrong. If we are serious about reshaping society, then we must be equally serious about engaging on those battlefields where the stakes are highest for generating influence. As I noted in a previous article:
Imagine the impact of sending out an army of wise, good and principled attorneys who then become lawmakers and even judges; firmly grounded teachers who then start entire schools; fearless reporters and writers steeped in the principles of liberty who possess the skills to not be silenced, some who even go on to produce documentaries and feature films. The impact of all of these would reach into the thousands, hundreds of thousands, even millions.
Providing a way for a student to focus his commitment through a scholarship can be a powerful way to help him prepare. The sense of mission can propel a young person on a course to be of great use. Notwithstanding this, our lives are organic and not entirely our own. The journey often changes course with many surprises, and it's those surprises that prepare us even further. The vital element, however, is being committed to embark on a path.
Allow me to offer a personal example.
Reflecting on the early steps of my own journey, although I certainly worked hard, I cannot take credit for the remarkable experiences and opportunities that came. 1975 was a banner year for me. My ambition at the time was to eventually serve as an elected official in order to shape public policy for conservative values. As a college student I had served at the Utah legislature, but had since transferred to Princeton. During the coming years I would meet a series of mentors who would shape my future in ways I could never anticipate.
As one introduction led to another, soon I was asked to join the staff of U.S. Senator Wallace Bennett, and then began working as National Chairman to the March of Dimes youth program. The position mainly involved weekend fly-outs to other national youth groups to lead service projects, but it also familiarized me with President Ford's staff in Washington D.C.
Then one day, an unexpected and very early morning call came from the White House, asking me if I would serve on President Ford's Advisory Commission on Refugees. I was asked in rather point blank manner to be in Washington the next week to meet with the President of the United States. Saigon had barely fallen and the country was shaken, and one issue confronting us then was how to handle resettling our friends from South Vietnam. Shortly afterward, I was on "Air Force Two" headed to tour a Vietnamese refugee resettlement camp at Fort Chafee, Arkansas. Keep in mind that these refugees had fought diligently to preserve freedom during the Vietnam War only to finally lose it. These relationships and experiences left an indelible mark on me as time passed.
As the 1970s rolled into the 80s and beyond, I earned a number of advanced degrees that supported my conservative values, specifically for religious liberty. This included a law degree from Columbia,
which ultimately led to the privilege of being selected to serve as a law clerk at the United States Supreme Court for Chief Justice Warren Burger. There I learned the inner workings of the Court, including its strengths and weaknesses. As one assignment led to another, I also become acquainted with not only the other Justices and the cabinets of the Presidents, but also personally with President Ronald Reagan. My duties further led to meeting with Presidents Carter and Nixon as well, but I'll save those stories for another time. The lessons I learned from Reagan are worth explaining.
My acquaintance with President Reagan began in the Oval Office in 1987 and ended with two three-day work sessions in 1990. I had been asked to assist in the production of a documentary on the Constitution and the Presidency, which the James Madison Foundation now uses for constitutional education.
In office and out, President Reagan was both shrewd and dependable, but above all one notices while being around him for any length of time that Reagan as an individual radiated spiritual peace. I certainly felt almost a healing power in his presence.
Watching him answer questions I also realized again how false the media portrayals of President Reagan could be when he was wrongly painted as somehow not intellectually quick. Now, I could see how someone not paying full attention might make such a misjudgment. Sometimes Reagan's depth of substance led to his picking over his words so carefully that he could appear not to know what to say. Such an impression however was false. President Reagan would, in the sessions of answering rigorous constitutional questions, typically pause and think before speaking. Where a shallower person would be glib and loquacious, while really saying nothing, Reagan, in fact, would utter statements with substance. Focus, not a lack of brain power, led to President Reagan's style of expression.
Anyone around him for any length of time absolutely knew this. Unlike presidents before and after, those closest to President Reagan were inspired by the man to complete personal loyalty.
He was a beloved leader for who he truly was, and I know I loved him too.
He was also a vivid example of a servant on a mission for influence that switched tracks: a film actor, of all things, turned governor and then the president to mark the fall of European Communism. But his foundation was real. Ronald Reagan, I feel qualified to conclude, was a constitutional scholar who also had internalized the substantive values of that Constitution. We are only now beginning to get historical perspective on his greatness. There is therefore hope for those of us who are similarly grounded, but who may not always be ready to express ourselves when a particular answer involves the application of our most fundamental political and spiritual values.
Consistently humble and sincere, time with him was an education in virtue, both private and public.
Over time my aspirations to become an elected official changed. It became clear to me that my true purpose was to advise and to teach. Nonetheless, it was my initial commitment that set me on the trajectory, one filled with unexpected opportunities to serve, to make a difference, and to learn from the wisest of fellow servants. The crossover benefits to myself and to others could not be planned though, since this was not really in my hands, but the hands—as is true of all of us—of a greater wisdom above.
Coming forward to the present, my calling, as before, is yet again to advise and to teach—but this time with lessons from the voyage: to help students setting out on their own. Today the stakes are greater than ever. If we fail this generation, the culture will not sustain.
It was with this in mind that we at the University created mission-based scholarships. I know from experience that good things happen when we set ourselves on highly-aimed trajectories. Part of that includes being in the right place at the right time.
In 1765, the inquisitive 22-year old Thomas Jefferson was still in many ways a regular college student. Although studying the law under George Wythe at the time, he had not yet "caught fire" to be launched on the great trajectory of his future.
On May 30th of that year, Jefferson was engaged in the favorite pastime of any other student at William and Mary—entertaining himself at the House of Burgesses by watching the legislative debates. On that day, however, he was fortunate enough to see the newly-elected delegate, Patrick Henry, deliver his Caesar-Brutus speech as he presented his resolutions against the Stamp Act.
By Jefferson's own account, he was standing in the doorway, riveted to every word, when a spark ignited within him.
For the rest of his life Thomas Jefferson would refer to that moment as the catalyst for his commitment to the cause of liberty and to good government. From that time forward, evidence of his growing passion increased in his journals, studies and activities—a passion to become manifest in his deeper exploration of the natural "inalienable" rights of man, and the philosophies supporting this central tenet.
His ensuing friendships with Patrick Henry and many others intersecting through the hub of Williamsburg set the stage for much of the history we all know. But the serendipity that led to these opportunities was magnified first by proximity to a state legislature.
It should also come as no surprise that so many statesmen emerged from that same college, just minutes from the halls of Virginia's government. Combined with good mentoring, state legislatures are the seedbeds, laboratories and incubators of statesmanship.
Today, new statesmen do exist. And as before, they can often be found in state legislatures, even if only in small numbers. With our classes held within a short walk, and sometimes even inside the Utah Capitol, the sharpest legislators are not only able, but are quite willing and eager to participate with our students as they did so generously this past school year. As with my own experiences, and those of the young Thomas Jefferson, the mentors are always ready.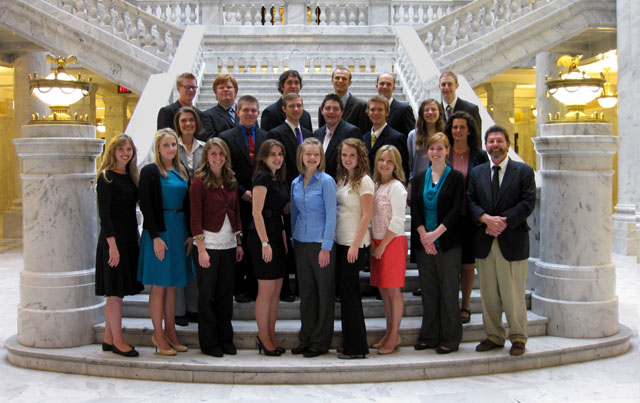 The nexus for the magic of Williamsburg is what we have now replicated at George Wythe University. It is a prototype for even greater things to come.
With student life enmeshed with the Capitol, opportunities abound—but still only to a point. The key ingredient is found in the heart of the committed student.
This is where the scholarship steps in. It has become a truism that no reliable correlation exists between a student's potential, his preparation, his commitment—and his ability to afford tuition. Moreover, this type of education often requires upward of 60 hours of study per week. With this load, we recognize how difficult it can be to maintain the depth needed in a student's inquiry and study—and how particularly challenging this achievement can be when excessive hours are needed for employment.
Meanwhile, the key battlefronts of influence where freedom will either advance or retreat—government, media and education—remain under-manned from the side of those who champion liberty and virtue. This is another reason for our creation of these scholarships.
When the young Thomas Jefferson stood in that doorway at age 22, he had no way of knowing his true trajectory, but he did have an interest in the law and the rights of man, and to study seriously under the wisest teachers. My own experience was nowhere as illustrious as his, but I did have aspirations to serve. And although my path took courses I could never have predicted, it was the effort plus my education that helped put me in the right places at just the right times for those new opportunities to arise.
This is not to disparage those who wish to gain a classical education simply for its own benefit. By all means, such is a worthy endeavor. Mission-based scholarships, however, form a structure for building future statesmen—whether it feels to us at the time that we are on our own trajectories, or if we discover at some point that other purposes were in store. In either case, the key is the commitment of the student to embark. Providence can steer his momentum.
In today's battle the hour is late. The call to rise up is both literal and urgent. Those with the mettle of commitment and love of country written upon their hearts are needed, particularly in the sectors of greatest influence. It is for you and your future service that we have created these scholarships, to magnify your impact to its fullest.
May God bless you as you join us in this cause.
President Ashby D. Boyle
View the explanation and terms of Mission-Based Scholarships >>
Ashby D. Boyle II is the President of George Wythe University. Dr. Boyle served as a Law Clerk to the 15th Chief Justice Warren E. Burger of the United States Supreme Court. He also was appointed by President Gerald Ford to the President's Advisory Committee on Refugees after the fall of Saigon. Additionally, he served on the United States Senate Judiciary Committee. Dr. Boyle graduated with Honors from Princeton University and received law degrees from the University of Cambridge in England, as well as the Columbia Law School in New York City, where he was an editor of the Columbia Human Rights Journal and a Charles Evans Hughes Fellow. He went on to receive from Yale a Ph.D., M.Phil. and M.A., where he also taught a variety of courses. Dr. Boyle is a practicing attorney in both New York and Utah. Learn more about President Boyle here.
{ 0 comments }